Optimizor Premium Puppy 2in1 Milky Bones
Optimizor Premium Puppy with Milky Bones contains 26% protein and easily digestible milk proteins for development and growth. The inclusion of easy-to-digest milk proteins in our kibble means that we can offer increased calcium in the form of 'milky bones' in our puppy food. Together with VitaCARE, and Omega 3 and 6, Optimizor Premium Puppy has everything your puppy needs for healthy growth and development.
Shop now on Takealot.com :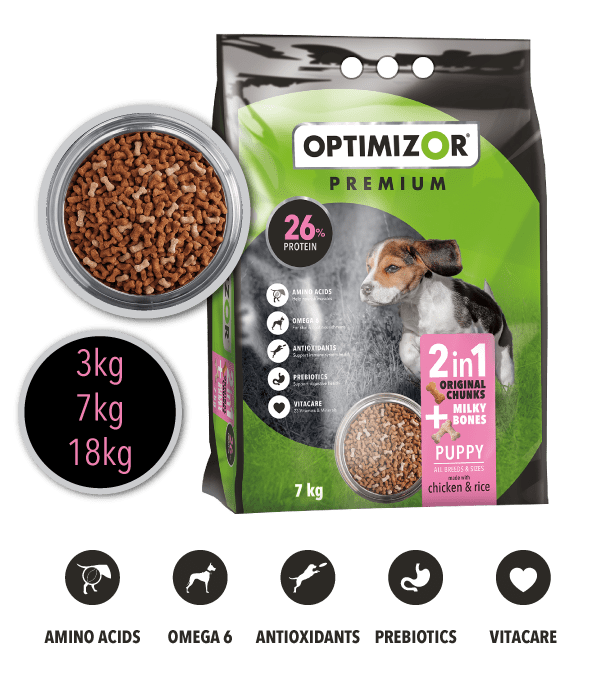 Ingredients
Cereals(min 4% rice), Meat&Animal Derivatives (min 4% poultry meal),Vegetable Protein Extract,Derivatives of Vegetable Origin,Fats & Oils,Milk Powder(min 4%),Palatability Enhancers,Minerals and Vitamins,Fish and Fish Derivatives,Glucosamine,Chondroitin,Green Lipped Mussel Extract and Mannan Oligosacchirides, Approved Colours and Antioxidants.(May contain at least 5% GMO's).
NUTRIENT AMOUNT IN g/kg

Crude Protein
260 (min)
Moisture
100 (max)
Crude Fat
120 (min)
Crude Fibre
30 (max)
Crude Ash
90 (max)
Linoleic Acid
10 (min)
Calcium
16 (max)
Phosphorus
9 (min)
Vitamin E
50 IU/kg (min)
Selenium
0.11 mg/kg (min)
Omega 6 : 3 Ratio
5 - 10 : 1
Feeding Guidelines
Recommended number of feedings are as follows: Feed puppies under 3 months of age, 3 – 4 daily feedings of moistened food. After 3 months of age gradually reduce moist food and feed 3 times per day. From 6 – 18 months provide 2 daily feeds. Remove food after your puppy has finished eating (after 10 – 15 minutes at each of the above meals). Reduce the amount of food if the puppy becomes overweight. Each puppy is different, depending on the puppy's activity level and body condition, food amounts and/or time allowed to eat may need to be adjusted.
EXPECTED
ADULT BODY
WEIGHT (kg)

AMOUNT TO FEED YOUR PUPPY PER WEEKS OF AGE (GRAMS/DAY)

4 - 8 Weeks

8 - 12 Weeks

12 - 16 Weeks

16 - 20 Weeks

20 - 24 Weeks

24 - 36 Weeks

36 - 52 Weeks

52 - 78 Weeks

1 - 5

20 - 95
30 - 115
40 - 125
45 - 130
50 - 145
50 - 130
Feed As Adult
Feed As Adult

5 - 12

55 - 175
95 - 245
115 - 270
125 - 290
143 - 320
145 - 300
130 - 300
Feed As Adult

12 - 25

95 - 290
175 - 420
245 - 465
270 - 500
290 - 550
315 - 465
300 - 465
Feed As Adult

25 - 35

150 - 350
290 - 520
420 - 590
465 - 640
500 - 710
550 - 670
465 - 670
440 - 580

35 - 45

250 - 410
350 - 610
520 - 715
590 - 780
640 - 875
710 - 870
670 - 730
630 - 730

45 - 70

200 - 500
410 - 730
610 - 920
715 - 1060
790 - 1220
870 - 1135
870 - 1135
870 - 1010