Optimizor Premium Adult 2in1 Gravy Coated
Optimizor 2in1 Gravy Coated with 23% protein, puts our new gravy coating technology to work to produce a delicious, gravy covered feast just by adding hot water.
Shop now on Takealot.com: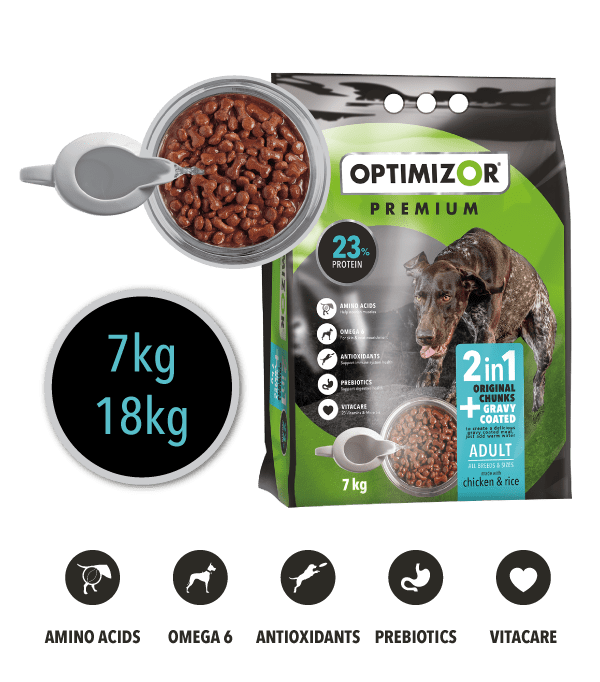 Ingredients
Cereals(min 4% rice), Meat&Animal Derivatives (min 4% poultry meal), Derivatives of Vegetable Origin, Vegetable Protein Extract, Fats & Oils, Palatability Enhancers, Minerals and Vitamins, Gravy(including thickening agent),Mannan Oligosaccharides, Approved Colours&Antioxidants. (May contain at least 5% GMO's).
NUTRIENT AMOUNT IN g/kg

Crude Protein
230 (min)
Moisture
100 (max)
Crude Fat
110 (min)
Crude Fibre
30 (max)
Crude Ash
90 (max)
Linoleic Acid
10 (min)
Calcium
25 (max)
Phosphorus
8 (min)
Vitamin E
30 IU/kg (min)
Selenium
0.11 mg/kg (min)
Feeding Guidelines
These amounts are averages based on moderately active dogs at normal environmental temperatures. Individual needs vary and feeding should be adjusted as required to maintain a lean, healthy body weight.
BODY WEIGHT (kg)

AMOUNT TO FEED
(GRAMS/DAY)

1 - 5
30 - 100
5 - 10
100 - 165
10 - 20
165 - 280
20 - 30
280 - 380
30 - 40
380 - 470
40 - 50
470 - 555
50 - 60
555 - 640
60 - 70
640 - 715