Optimizor Complete Puppy Beef 
Optimizor Complete Puppy  is a nutritionally sound and scientifically formulated dog food for puppies leading active lives. With Omega 6 and VitaCARE, Optimizor Complete Puppy offers the perfect balance of immune boosting vitamins, minerals and essential oils, for a healthy and active puppy, all at an affordable price.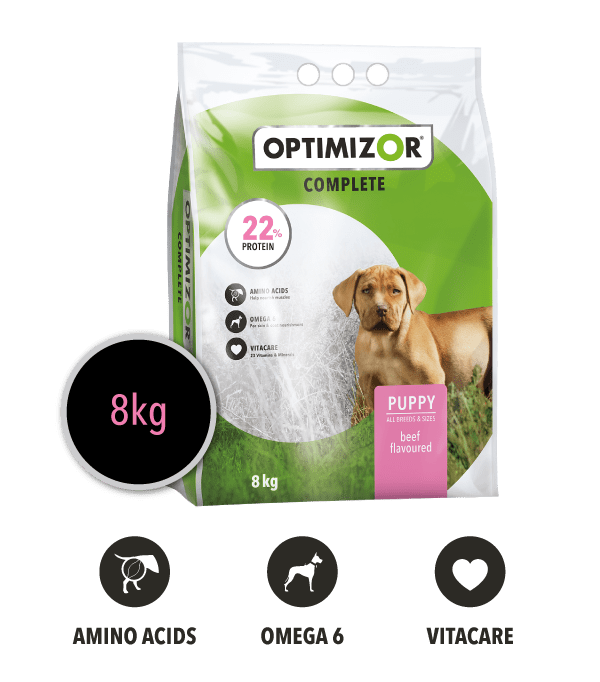 Ingredients
Cereal,Vegetable Protein Extract and Derivatives of Vegetable Origin,Meat and Animal Derivatives,Minerals and Vitamins, Fats and Oils,Palatability Enhancer,Minerals and Vitamins Approved Antioxidants.(May contain at least 5% GMO's).
NUTRIENT AMOUNT IN g/kg

Crude Protein
220 (min)
Moisture
100 (max)
Crude Fat
80 (min)
Crude Fibre
45 (max)
Crude Ash
100 (max)
Linoleic Acid
10 (min)
Calcium
25 (max)
Phosphorus
8 (min)
Feeding Guidelines
Recommended number of feedings: Feed puppies less than 3 months of age, 3 – 4 daily feedings of moistened food. After 3 months, gradually reduce moistening and feed 3 times per day. From 6 – 18 months, provide 2 daily feedings. Reduce the amount of food offered if the puppy becomes overweight. Each puppy is different, depending on the puppy's activity level and body condition, food amounts and/or time allowed to eat may need to be adjusted.
EXPECTED
ADULT BODY
WEIGHT (kg)

AMOUNT TO FEED YOUR PUPPY PER WEEKS OF AGE (GRAMS/DAY)

4 - 8 Weeks

8 - 12 Weeks

12 - 16 Weeks

16 - 20 Weeks

20 - 24 Weeks

24 - 36 Weeks

36 - 52 Weeks

52 - 78 Weeks

1 - 5

25- 105
35 - 130
50 - 140
50 - 150
55 - 165
53 - 145
45 - 150
Feed As Adult

5 - 12

60 - 105
105 - 275
130 - 305
140 - 330
150 - 355
165 - 335
145 - 330
Feed As Adult

12 - 25

105 - 330
200 - 475
275 - 525
305 - 565
330 - 625
355 - 525
335 - 495
330 - 500

25 - 35

170 - 400
330 - 585
475 - 665
525 - 725
565 - 800
625 - 725
525 - 650
495 - 650

35 - 45

260 - 460
395 - 690
585 - 805
665 - 885
720 - 985
800 - 985
756 - 820
500 - 690

45 - 70

215 - 560
460 - 820
690 - 1035
805 - 1200
885 - 1380
985 - 1280
985 - 1285
820 - 1115