Optimizor Complete Adult Beef 
Optimizor Complete is a nutritionally sound and scientifically formulated dog food for adult dogs leading active lives. The addition of Omega 6 oils and VitaCARE make it the perfect well-balanced immune-boosting blend of vitamins and essential oils for a healthy, happy dog, all at an affordable price.
Shop now on Takealot.com: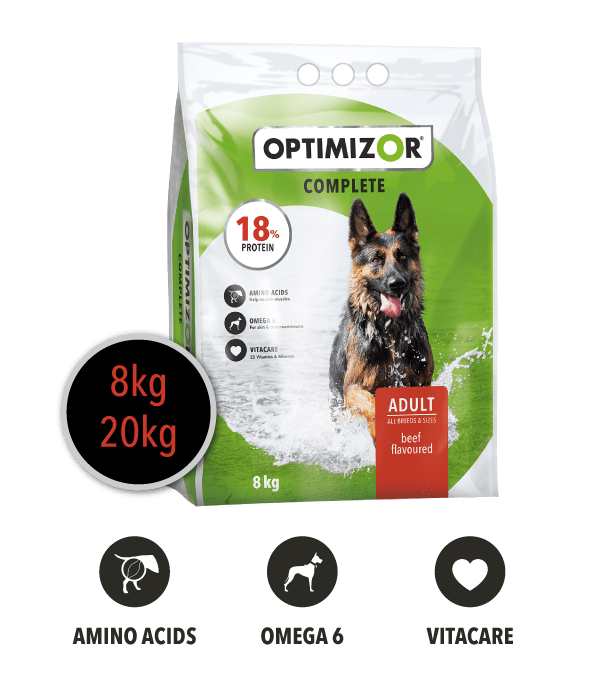 Ingredients
Cereal*,Derivatives of Vegetable Origin and Vegetable Protein Extract, Meat and Animal Derivatives, Minerals and Vitamins, Oils and Fats,Approved Antioxidant.(*May contain at least 5% GMO's).
NUTRIENT AMOUNT IN g/kg

Crude Protein
180 (min)
Moisture
100 (max)
Crude Fat
60 (min)
Crude Fibre
50 (max)
Crude Ash
100 (max)
Linoleic Acid
10 (min)
Calcium
25 (max)
Phosphorus
6 (min)
Feeding Guidelines
These amounts are averages based on moderately active dogs at normal environmental temperatures. Individual needs vary and feeding should be adjusted as required to maintain a lean, healthy body weight.
BODY WEIGHT (kg)

AMOUNT TO FEED
(GRAMS/DAY)

1 - 5
40 - 130
5 - 12
130 - 250
12 - 25
250 - 430
25 - 40
430 - 610
40 - 60
610 - 825
60 - 80
825 - 1020
80 - 90
1020 - 1120